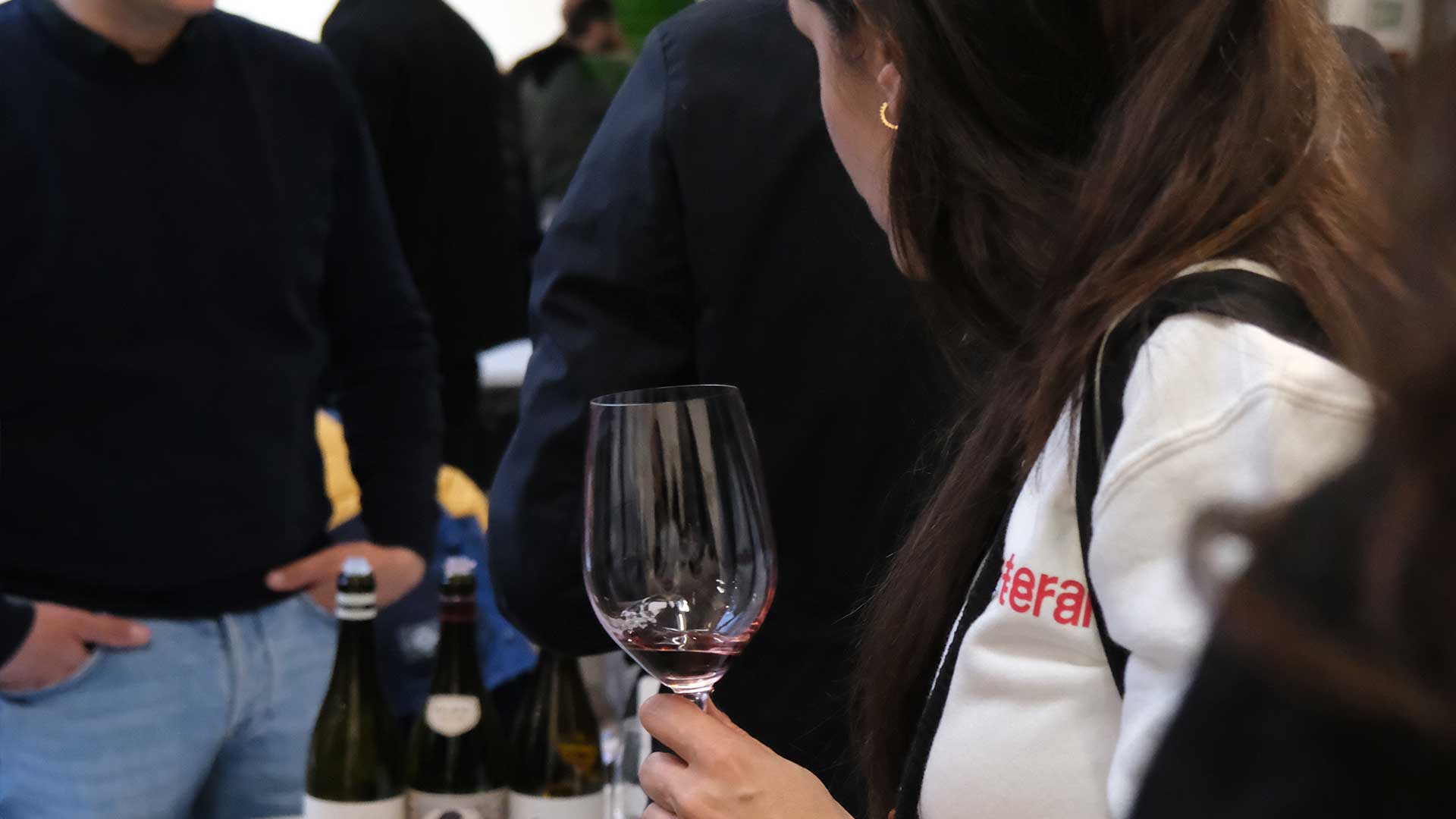 In this almost-hidden encounter in an iconic inner courtyard of the Eixample district, 39 national and international wine producers gathered to share their adventures. Each winemaker took us on a journey, from Kühling-Gillot and his excursion through the Rieslings of Rheinhessen, to Ribera del Duero with the splendid Goyo García Viadero and his methodology for creating the Clarete. But not without passing through Castilla y León with Barco del Corneta, who advocates for maintaining the true essence of the Verdejos. And this was just the beginning.
Each tasting was as if it were a true love story; romance, obstacles, success and challenges to overcome. Of course, they share all of this -Off the record-.
In this unofficial wine adventure, we were able to discover how well 4 Monos winery works with Garnacha, with subtlety and freshness as a premise. Also, we had the opportunity to close our eyes, look up, and imagine how the Tentenublo winery, in Rioja Alavesa, performs heroic viticulturist maneuvers and plays with the altitude and latitude of the cooler areas of its vineyards—where the grapes ripen later—in order to prepare for climate change.
Bibi, the winemaker at Cortijo Los Aguilares, a winery that we were lucky enough to visit in person last year, amazed us with her wine novelty, a 100% Graciano, on a par with her praised Pinot Noir and Petit Verdot, which promises a long life ahead. After the tasting, we were even more curious to try old vintages. To refresh our glasses, we stopped at Albamar winery, where Xurxo surprised us once more and gifted us with unforgettable moments such as being able to taste the magnum del Pai and some older vintages.
The afternoon flew by when we visited Albert de Esteve i Gibert Viticultors; this winery has vineyards in one of the most bucolic areas of the Penedès, Subirats; to them, we give a big round of applause for offering us a Xarello starter with great value for money, which, while the term may seem cliché, we mean it wholeheartedly. We'd like to highlight his outstanding work with Malvasia de Sitges: Clot dels Eixams, fermented and raised in a 500-liter chestnut barrel.
Navigating through the corridors, we came across La Furtiva, a winery in Villalba dels Arcs, Terra Alta, that captivated us with its great aged wine, Finca La Rosita, which demonstrates their winemaker is a young professional producer who has demonstrated his good "aging" himself.
There was one winery in particular that aroused curiosity and received praise throughout the fair, we are talking about Sept Winery, from Lebanon. They surprised us with wines of exotic flavors made with their local varieties, such as Merweh and Obeideh. From Levante to Levante, we visited Murcia with the artisan winemaker, Julia Casado, who always makes us fall in love with her natural wines and her impeccable work with monastrell. La Cañada del Jinete 2018 blew our minds, due to its great evolution.
We devoted the final moments of the day to a shared table between Javi Revert, an emerging winery in Valencia that has established itself in the sector due to the uniqueness of its wines, and Alvar de Diós, who strives to produce sensitive wines in an area that would not a priori (the Denomination of Origin Toro) awaken the interest of a more curious wine audience. We highlight Las Vidres, a Doña Blanca with remarkable elegance.
Vilateral witnessed firsthand the stories that you don't normally see on the label—the stories that only the person creating the wine can tell you.
The passion is palpable, especially when they speak openly to you about each of their creations. In each glass that was served, there was a story, and none remained untold. Of course, you have to follow the rules and the direction of the tasting dictated by the exhibitor, and you have to respect and understand that if they have orchestrated it that way, you just have to let yourself be guided.
In this event, no question remained unanswered, paying homage to "how it should be": that the wine is made with the purpose of enjoying it. And, without taking away from the commercial side of things, we always emphasize how important it is to share the stories trapped in each bottle. Stories that should come out with every glass that is served, even if it is Off the Record.
Article written by: Andrea R. Capriles i Patrícia de Golferichs.
Pictures: Patrícia de Golferichs y Laura Gámez.